Due to the today's heavy rainfall and muddy conditions, the postponed AHS bonfire pep rally scheduled for tomorrow, November 3, 2021, has been cancelled. We are sorry for the inconvenience.

DON'T FORGET TO FALL BACK - Daylight saving time is coming to a close, this year's time change happens on Sunday, Nov. 7 at 2 a.m.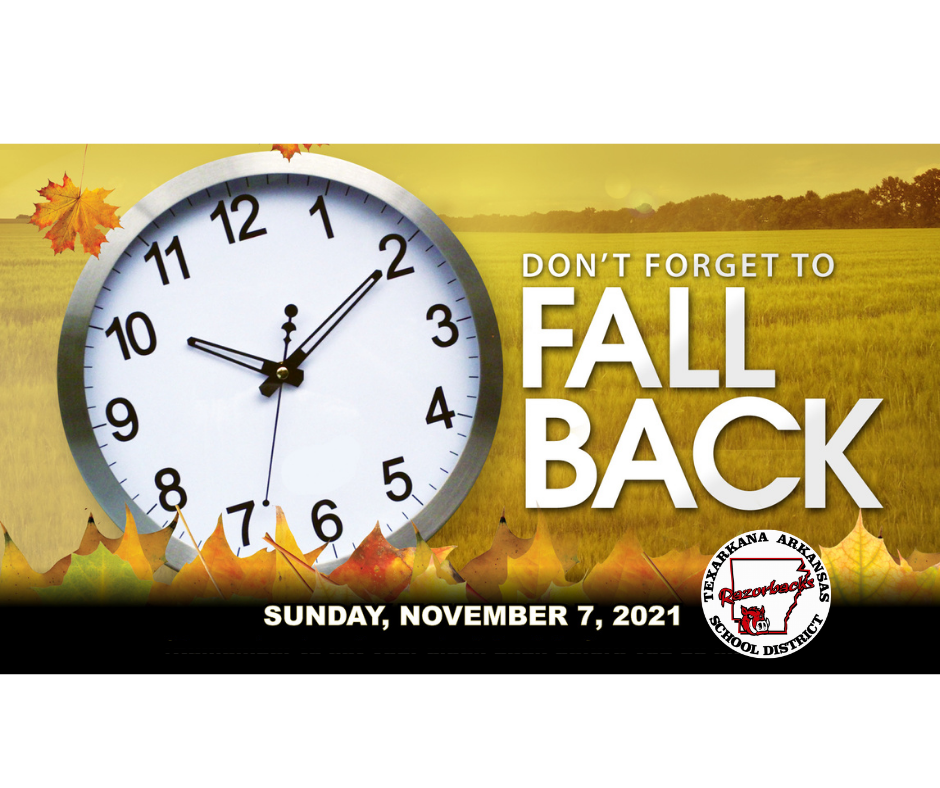 The AHS senior pep rally is postponed due to muddy conditions and forecasted high winds. We look forward to honoring our seniors at next week's Senior Pep Rally on November 4th. More information to come! Thank you for your patience and understanding. Class of 2022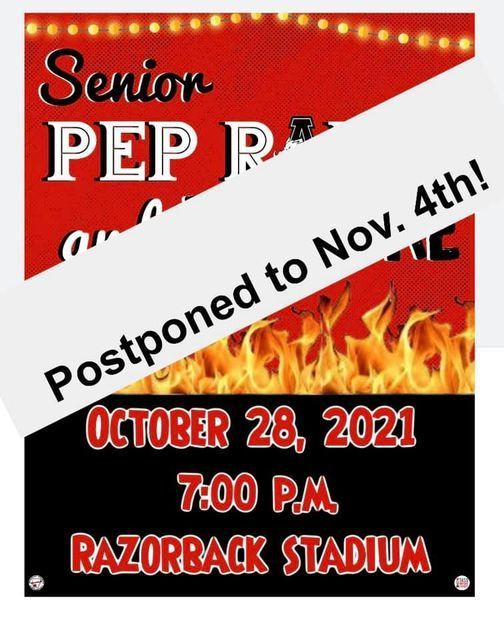 SEE or HEAR SOMETHING, SAY SOMETHING. Over the past several weeks, Texarkana Arkansas School District and campus officials have noticed incidents of written threats against the school in restroom stalls on the high school campus. The Texarkana Arkansas School District (TASD) and Texarkana Arkansas Police Department (TAPD) take every threat seriously and conduct threat assessments to determine the validity of any threat made whether the threat is made on social media, in-person, written in a restroom stall, etc. If a threat is deemed credible by TASD and TAPD, any of the following actions may take place: increased security and police presence, school lockdown, and/or school cancellation. The district will communicate the nature of the credible threat with students, staff, and parents along with the actions taken. If it is determined, after a thorough assessment is conducted, that the threat is not credible, the campus will resume as normal with additional security and police presence. It is very important for parents/guardians to partner with us by talking with your child and explaining the seriousness of making threats against their peers, staff, campus, or district. Such actions face severe consequences which may include expulsion from school and/or arrest. Anyone with information regarding any threat against another student, staff, or campus should report it immediately to a district or campus administrator or the Texarkana Arkansas Police Department. If you hear or see something, say something. It takes everyone working together to help ensure a safe learning environment for the students and staff of the Texarkana Arkansas School District. We realize that our students, like many children across the nation, are facing difficult times as we continue to recover from the affects that COVID-19 has had on our school community. If you or someone you know needs support or is reaching out for help you can contact a school official or connect with a Crisis Counselor by texting HOME to 741741.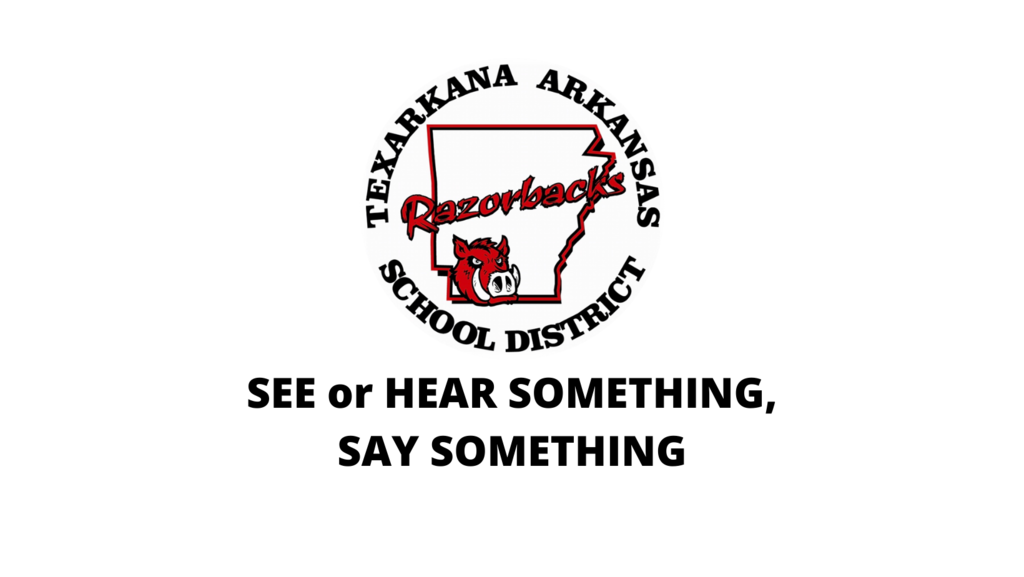 Senior Pep Rally and Bonfire - Thursday, October 28 at 7:00 PM - Razorback Stadium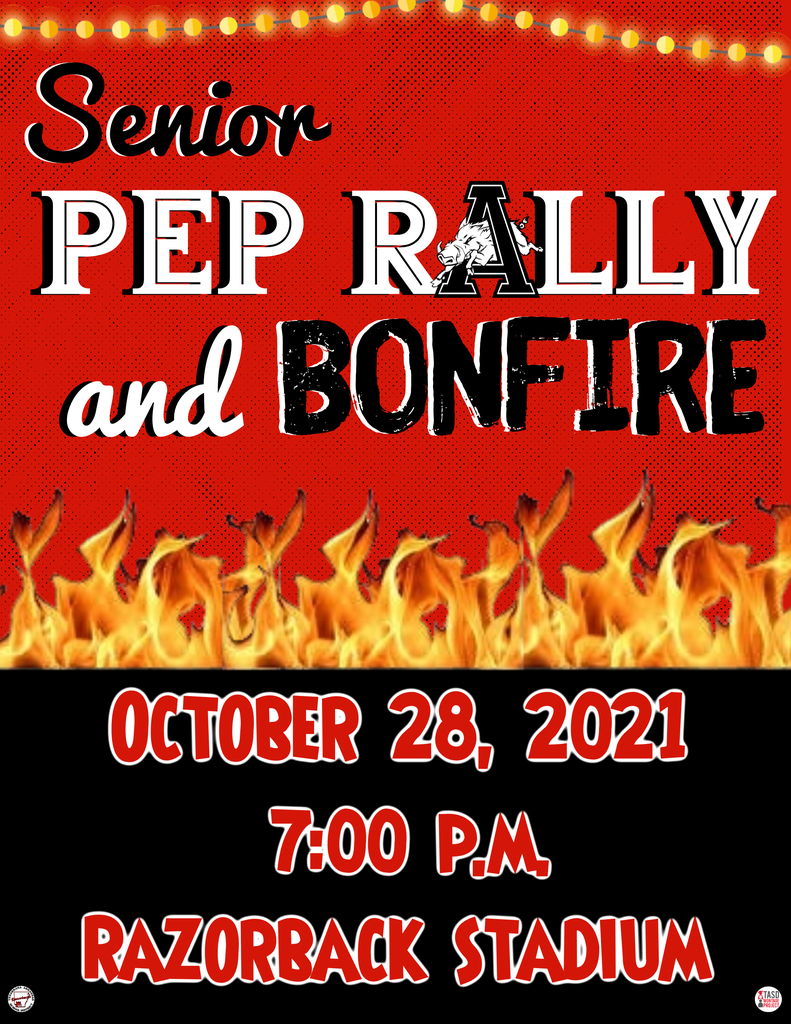 TASD District Wide Pink Out - Friday, October 29 - WEAR PINK


Congratulations to the Arkansas High School Band for receiving all 1 Superior ratings at the Regional Marching Assessment Competition! GREAT JOB!

FACE MASK MANDATE LIFTED - The Texarkana Arkansas School District has lifted the face covering mandate. However, face coverings are strongly recommended for staff, students, and visitors when unable to socially distance. #teamtasd #potentialrealized

Congratulations to the Arkansas High School Razorback Redline on their awards at their first dance competition. Judges Choice Award for Fight Song and 2nd Place Overall for Gameday. #teamtasd #potentialrealized

AHS Band to Hosts Regional Marching Competition - On Tuesday, October 19, the Arkansas High School Band will host and perform in the Region 2 Marching Assessment Competition. Eleven high school bands from the southwest region of the state of Arkansas will be representing their schools at the event. Each band will present a five to eight minute performance that will be assessed by an expert judging panel. Judges will rate the bands' music, marching, brass, woodwind, percussion, and color guard performances. The ratings for each performance will be assessed as one of the following: Superior, Excellent, Good, Fair, or Poor. The high school bands represented in the Arkansas School Band and Orchestra Association Region 2 Marching Assessment have been working hard since August to prepare for their contest performances. The event is free to the public, so come and enjoy the performances and support your favorite band. Arkansas High Razorback Stadium Tuesday, October 19, 2021 5:00 p.m.* *Visit
www.TASD7.net
to view the schedule for each high school band performance.

TIME CHANGE FOR VOLLEYBALL GAMES TONIGHT! AHS vs El Dorado- Razorback Gym Varsity- 5:00 pm followed by JV AMS vs El Dorado- AMS Gym 9th Grade- 5:00 pm followed by: 7th Grade (A & B) & 8th Grade #teamtasd #potentialrealized #saferazorbacks

This is a friendly reminder that students will not attend school on Friday, October 8 and Monday, October 11. Staff Professional Development Day is on Friday and Columbus Day is Monday.

Thursday morning, Arkansas High School administrators were made aware of a threat written in one of the restroom stalls. The campus administrators, Texarkana Arkansas School District security personnel, along with the Texarkana Arkansas Police Department immediately followed threat assessment protocol to determine the validity of the threat. It was determined that the threat was not credible. At this time, there is additional police presence on campus, and the Texarkana Arkansas School District will continue working with the Texarkana Arkansas Police Department to further investigate the incident. We must all stay vigilant and work together to ensure the safety of our schools and our community. Please continue to talk to your children and let them know how to reach out for help or to report suspicious behavior. If you see or hear something that alludes to a possible dangerous or harmful situation, call and report it.

Let's paint Texarkana red and show our school spirit this Friday by wearing red. Also, join us this Friday night at the "Grab a Panther by the Tail-gate" and football game.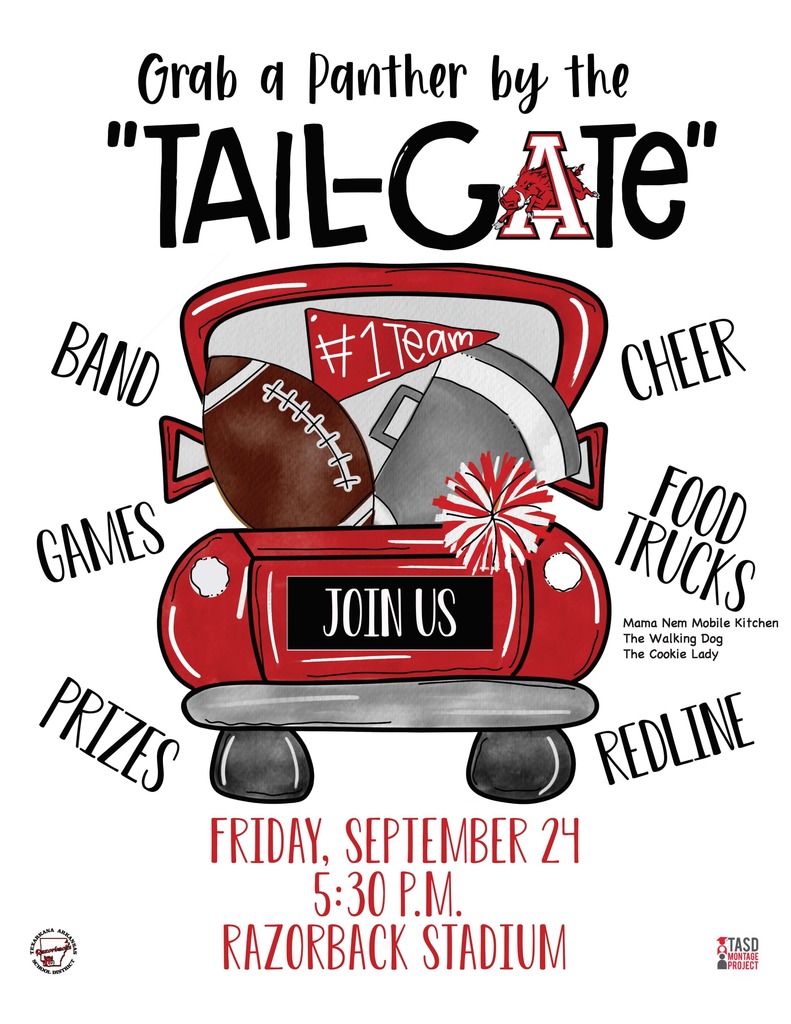 The AHS JV football game scheduled for tonight in Magnolia has been canceled. #teamtasd #potentialrealized #saferazorbacks

Virtual Parent/Teacher Conference - Thursday, September 16 from 4:00 - 7:00 PM

Razorbacks vs. Tigers Hometown Rivalry Game Cancelled - The Razorbacks vs. Tigers hometown rivalry game scheduled for Friday, September 3, is cancelled due to the increased number of COVID-19 cases in our community. Arkansas and Texas city and county officials, local health care departments, and both Texarkana Arkansas School District and Texarkana Independent School District superintendents discussed the upcoming event, and the decision was made to cancel this year's football game. With COVID-19 being at a critical stage, there is concern that a well- attended game with many local residents will add additional strain to an already overwhelmed health care system. "The Miller County Local Health Authority continues to monitor the COVID-19 pandemic locally and consider factors such as current hospitalizations, positivity rates, active cases, and vaccination rates when making recommendations for the health and safety of residents," commented local physician Dr. Jerry Stringfellow. Local ERs are seeing record numbers of patients daily, calls for 911 services are much higher than normal, both counties have more active COVID cases than ever before, and vaccination rates remain well below the state and national averages. The much anticipated rivalry game averages a crowd of over 6,000 fans. "Continuing with plans to host a super spreader event such as the Arkansas High vs. Texas High football game at this time is not advisable," Stringfellow says. "Adhering to the Arkansas Department of Health guidance for large outdoor venue events will be extremely difficult with such a large number of fans in attendance," explained TASD Superintendent Dr. Becky Kesler. "The health and well-being of our students and staff is our greatest priority when making decisions, and we will continue to work in collaboration with our medical professionals as they advise us on how to best move forward," she said. "We thank you for your understanding and hope this decision will help in reducing the spread of COVID-19." #teamtasd #potentialrealized #saferazorbacks

TASD will hold the COVID-19 vaccine clinic on Wednesday, Aug.25 and Thursday, Aug. 26. 2nd shot only from the Aug. 4 clinic. The clinic will take place in the Arkansas High School cafeteria from 4:00 to 6:00 p.m. #teamtasd #potentialrealized #saferazorbacks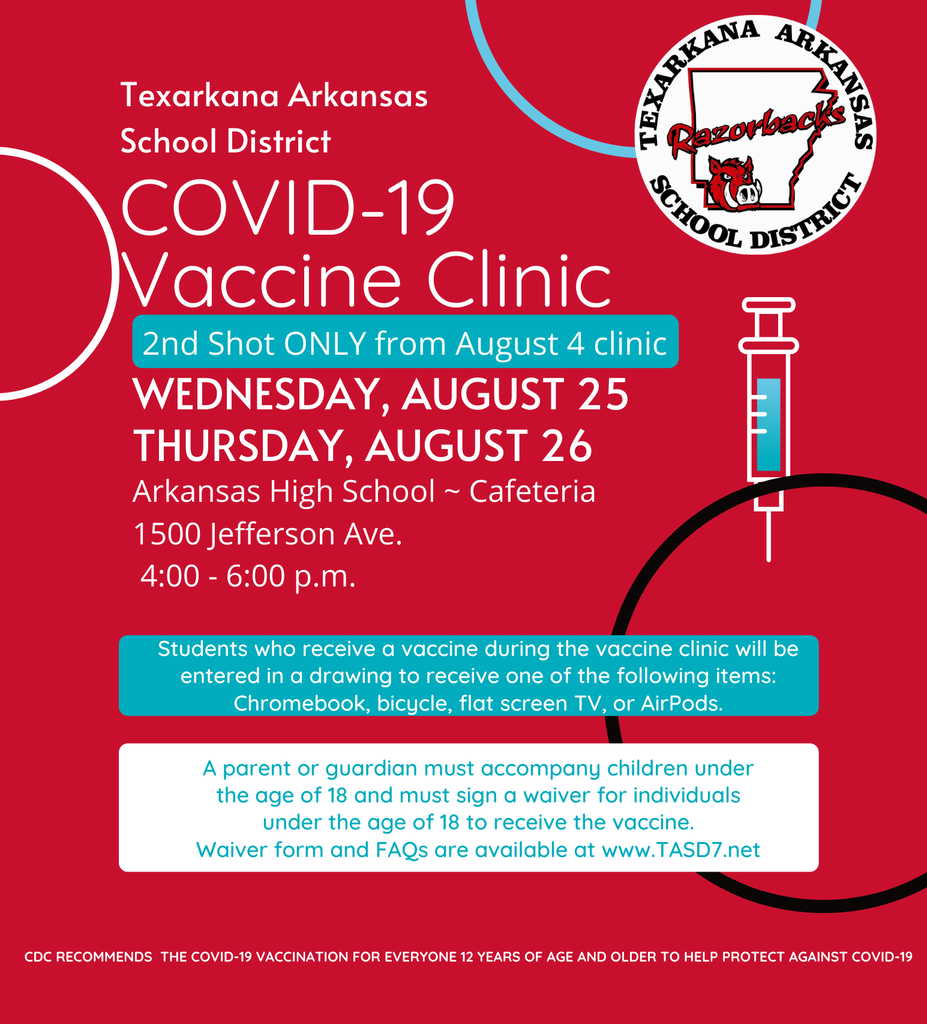 The Texarkana Arkansas School District will be following procedures recommended by the CDC. The recommendations below will be updated as needed to help prevent the spread of COVID-19. Vaccinations COVID-19 vaccines are the most effective strategy to protect people from getting sick and to reduce the risk of people spreading COVID-19. Students who are ages 12 and older are eligible to receive the Pfizer vaccination. The COVID-19 vaccine is available at the local health unit and pharmacies. Fully-vaccinated students or staff do not need to quarantine if deemed close contacts, unless they have/develop symptoms. Masks/Face Coverings • Indoors - CDC recommends indoor masking for all individuals age 2 years and older, including students, teachers, staff, and visitors, regardless of vaccination status. • Outdoors – In general, people do not need to wear masks when outdoors. CDC recommends that people who are not fully vaccinated wear a mask in crowded outdoor settings or during activities that involve sustained close contact with other people. Fully vaccinated people might choose to wear a mask in crowded outdoor settings if they or someone in their household is immunocompromised. In an effort to mitigate the spread of COVID-19 and reduce the number of teachers and students who may have to quarantine (which results in learning loss), TASD will require students, teachers, staff, and visitors to wear masks/face coverings indoors. Individuals exposed to a confirmed case of COVID-19 will not need to be quarantined if they have no symptoms and both the infected and exposed individual consistently and correctly were wearing masks. The Point of Contact for TASD is Carol Miller. If you have any questions, concerns, or need to report positive cases or exposures, Ms. Miller can be contacted at (870) 703-2619. TASD will re-evaluate the masks/face covering requirement each month. All updated information can be found at
www.tasd7.net
and TASD social media.

On Wednesday, August 4, TASD will hold a COVID-19 vaccine clinic. The clinic will take place in the Arkansas High School cafeteria from 9:00 a.m. to 12:00 p.m. and 4:00 to 6:00 p.m. Ages 12 to 17 will receive the Pfizer vaccine and ages 18 and up will receive the Johnson & Johnson or Pfizer vaccine. Students who receive the vaccine during the vaccine clinic will be entered in a drawing to receive a Chromebook, bicycle, flat screen TV, or AirPods. A parent or guardian must accompany children under the age of 18 and must sign a waiver for individuals under the age of 18 to receive the vaccine.